Fall Festival Drive-Thru Trunk-or-Treat
October 24 @ 10:00 am

-

12:00 pm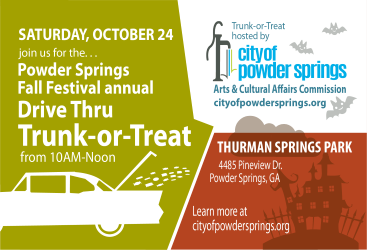 YES, we WILL have the Fall Festival Trunk-or-Treat! However, it will look a little different than it has in the past. In order to promote social distancing and help keep families and children safe we will be turning the Trunk-or-Treat into a Drive-Thru! That's right, we will still have businesses decorate and set-up trunks for children to view but instead of the children coming to the trunks for treats we are asking the participants working each trunk to carry treats up to the vehicles for the children to take.
WE ASK THAT ALL GUESTS REMAIN IN THEIR VEHICLES WHILE VISITING THE TRUNK-OR-TREAT.
NEW LOCATION!
We will be in a new location this year! Everything will happen around the new Thurman Springs Park in downtown, with trunks set up along Pineview Dr and South Town Square. Vehicles will enter from Marietta St onto Oakview Dr and travel around the park to see the trunks. We understand that not everyone will want their children to receive treats and we have a plan for that as well! Check back soon for more info.
NEW TIME!
The Trunk-or-Treat is moving from Friday evening to Saturday morning! This year we will host the event on Saturday, October 24 from 10:00am-12:00pm. Set-up will begin at 9:00am and vehicles will be placed as they arrive. There will be at least one full parking space between all vehicles so you won't have to worry about being too close to your neighbor!
TREATS! TREATS! TREATS!
Bring a big bag to collect all your treats! Remember to wear your costume or even dress up your car!