CANCELED – Glover Park Concert Series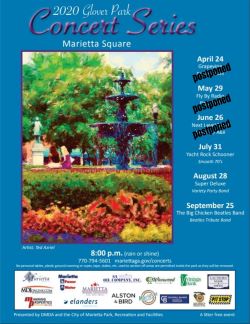 The Marietta community will again be "dancing in the street" during the Glover Park Concert Series. The series features local and national acts on the last Friday night, April through September in Glover Park on the Marietta Square.
The Series is presented in part by the Downtown Marietta Development Authority, the City of Marietta and Marietta Parks, Recreation, and Facilities.
The concerts are free but if you are looking for a "front-row seat," a limited number of tables can be reserved for a fee (and will sell out quickly) on the first working day of each month beginning at 8:00 a.m. See "Table Reservations" below for more information.
2020 Line Up
Concert Date
August 28 SUPER DELUXE – Variety Party Band
September 25 THE BIG CHICKEN BEATLES BAND – Beatles Tribute Band
Concert Details
All concerts are free and begin at 8 p.m.
Only blankets and lawn chairs are allowed inside of Glover Park. Tables, tarps, and plastic ground coverings are prohibited inside of Glover Park and will be removed. Rope, tape, stakes, etc. used to section off areas inside the park will be removed.
No tents, canopies, or other shade structures, including umbrellas, are permitted.
Tables and chairs may be brought and set up in the street on North and East Park Square after 6 p.m.
Any additional questions please contact 770-794-5601.