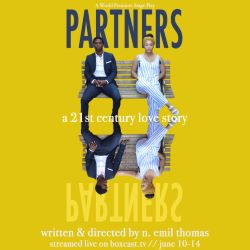 A message from the Director! – "Chaos. Uncertainty. Over the past several months we have all come face-to-face with the difficult delicate nature of our times. In the midst of everything, how do we care for each other? How do we choose to love and be loved? PARTNERS, the stage play, aims to ask and answer just those questions.
A theatrical production streaming LIVE on Boxcast.tv, PARTNERS is a unique experience you can't afford to miss.
Solomon a commercial developer revitalizes dying city hubs and remodels then to prosper in the 21st-century technology market. On the eve of his biggest pitch, Solomon returns to his condo as he awaits the arrival of his current partner, Amir to flush out their pitch. Solomon takes a moment for himself, takes a breath, and decides to take a shower. Enters Zenobi unannounced, Solomon ex-partner, returning from a self-love-discovering world trip. She takes in the world that is no longer hers. Before she can escape without being seen, Solomon returns to the living room where the ex-partners meet for the first time and feelings of the past awaken. Before space can be re-established between the two the sounds of semi-automatic gun ripples off the roof and the outside world rallies to the call of danger as a Mass Shooter is killing civilians outside of their condo. When the building goes into lockdown Solomon and Zenobi are forced to figure out a way to exist in their own shared space as patterns of their past relationship rekindle emotionally, physically, and professionally. Partners is a contemporary love story about the challenges of time, space, and the outside world breaching in.